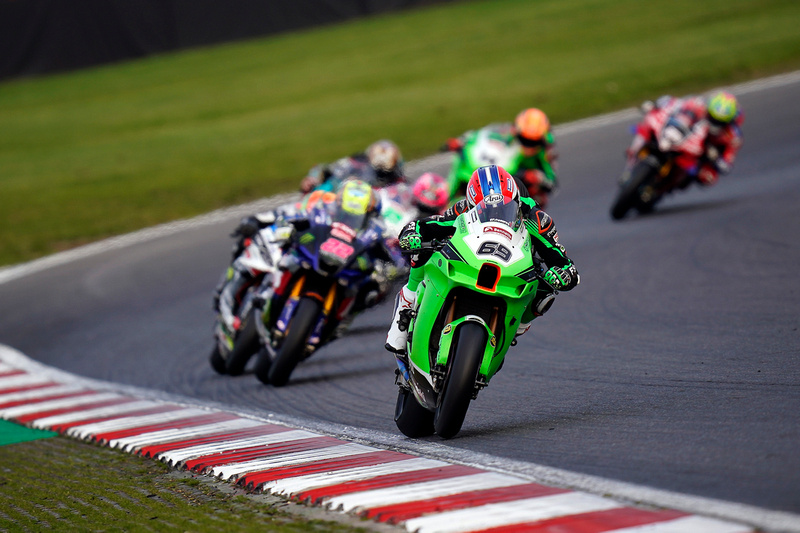 Bennetts British Superbike Championship rookie Rory Skinner signed off his debut campaign with a fine seventh place finish in the season finale at Brands Hatch today.
Having already raced the FS-3 Racing Kawasaki ZX-10RR at the famous Kent circuit in July, the 20-year-old from Perth was immediately up to speed in Friday's practice sessions and Saturday's wet qualifying, taking sixth place on the grid for the afternoon's Sprint race.
Taking full advantage of his second row start, the young Scot held a strong fourth place until he touched a damp white line on the entrance to the left handed Stirlings corner, slipping off on lap 11 of 16. There was further disappointment in race two on Sunday afternoon, when contact from another rider brought down Rory and his team-mate Lee Jackson just as Skinner had moved into sixth place at the Druids hairpin on lap seven. Race three saw Rory finally add to his season's points tally, coming through from 11th on the grid to take seventh in his 33rd and final race of a hectic debut season.
"It's a bit disappointing to have two DNFs, but I have happy with my riding this weekend," said Rory. "I've had top six pace throughout the weekend and I feel I was a bit unlucky in the first two races. On Saturday I was sitting comfortably in fourth when I just touched what must have been the only damp white line left on the track and lost the rear. Then in race two I passed Lee and Andrew Irwin for sixth, but Andrew cut back and we collided. It was tough from 11th in the grid in the last race, so to make up those places and take seventh was really good.
"This championship is so tight with such depth of field and I am really happy to be staying with FS-3 Racing Kawasaki next year. This weekend confirmed that I am to stronger when I return to a track for a second time and that continuity going into next season is really important. I've really enjoyed working with FS-3 this season and I hope that we can make that next step in 2022. I'm already thinking about my winter training programme and can't wait to get going again next year."
Rory ended his first season in the UK's premier motorcycle racing class 13th in the standings, the top rookie rider and with two podium finishes coming at round two at Knockhill.