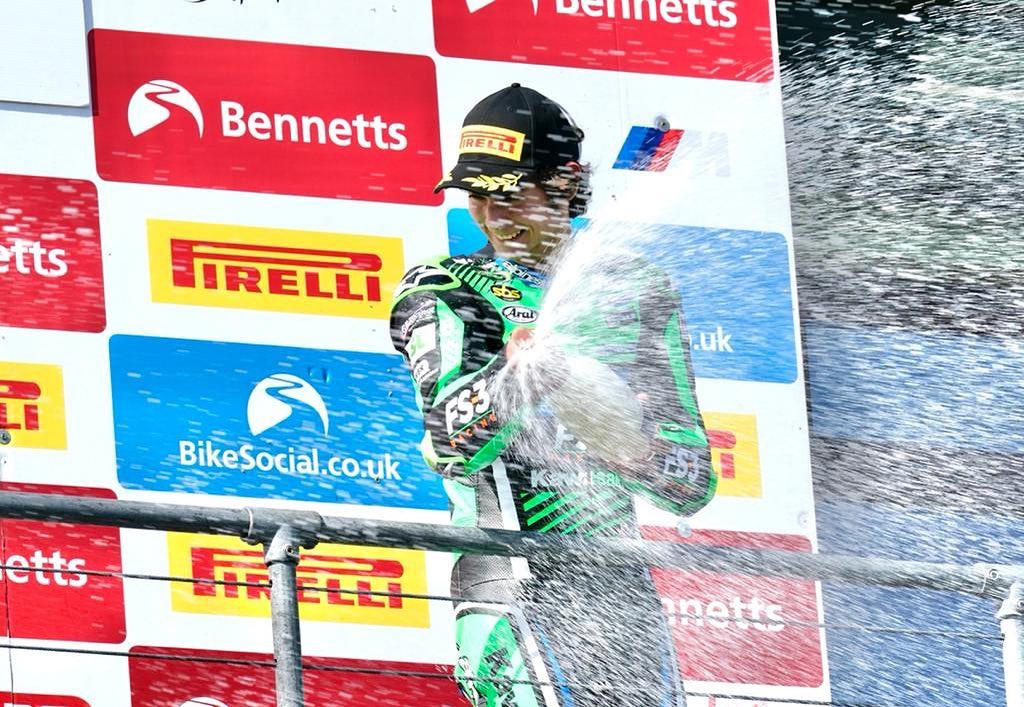 Rory Skinner took his third Bennetts British Superbike podium finish of the season at Knockhill today, finishing third in the 22-lap eBay Sprint race.
The 20-year-old, who hails from nearby Perth, put his Cheshire Mouldings FS-3 Racing Kawasaki ZX-10RR on the second row in qualifying, setting the fifth fastest time despite being caught out by the windy conditions, and he made a strong start to move into third place through Duffus Dip for the first time. After battling with last year's Knockhill double winner Danny Buchan on the first lap, the local favourite was able to overhaul Jason O'Halloran for second with a move up the inside at Clark corner on lap two.
Eight laps later, O'Halloran passed Rory into the hairpin to retake second – a move which compromised the Kawasaki's drive up the pit straight and saw the Scot relegated to fourth when Kyle Ryde slid up the inside going into turn one.
The former British Supersport Champion wowed his local crowd with some determined riding, repassing Ryde at Clark on lap 17 to move back into a podium position and start closing the gap to O'Halloran. Team mate Lee Jackson briefly swapped positions with his FS-3 colleague with two laps to go, but Skinner was able to retake third as they went through the hairpin for the 20th team – holding on for fifth career podium in the class.
Speaking after the race, Rory said: "After a couple of rounds off the podium it's great to be back on it in the first race at Knockhill.
"I made a good start and was just behind Brad until I made a small mistake, which let Jason get closer. He made a move on me at the hairpin and I moved back a couple of places, but I was able to regroup and get back on track, moving ahead of Lee and Kyle. From then it was a case of trying to set a pace and match what Jason was doing. Lee coming past me was a bit of a surprise, as I could see my pit board and he caught up with me quickly. I managed to fend him off in the last couple of laps though, and to get a podium at home is pretty mega.
"We've got a couple of things to change on the bike setup in morning warm up, but the hardest thing tomorrow is still going to be the wind. That's probably been the biggest factor for everyone yesterday and today. It is unpredictable, which makes it hard to get a bike set-up as the conditions change every lap, so we will see what it's like in the morning."
Tomorrow will see two 30-lap races on the schedule, which are broadcast live on British Eurosport 2. The first is due to start at 13:30, with Rory starting from fifth courtesy of his best lap time from today's race.