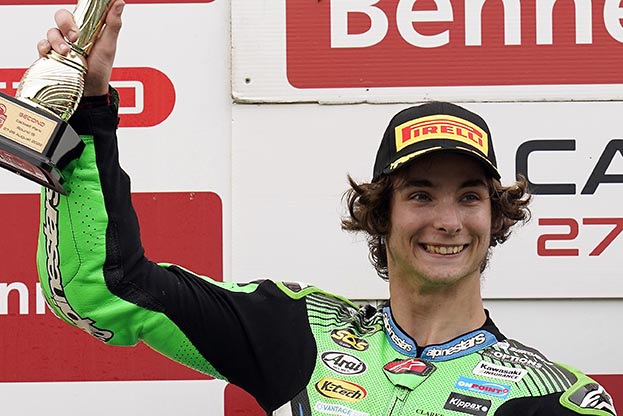 Cheshire Mouldings FS-3 Racing Kawasaki rider Rory Skinner returned to the podium with a fine second place finish in the eBay Sprint race at Cadwell Park today.
The 20-year-old Scot had been in fine form in the one-lap Superpole shootout session earlier in the day, momentarily breaking the all-time circuit record around the iconic Lincolnshire circuit on his Kawasaki ZX-10RR before qualifying second for the 14-lap race.
Skinner made a good start in race and pulled a sensational pass on pole sitter Bradley Ray to take the lead, before the red flags came out as a result of an incident involving team-mate Lee Jackson and former Racing Steps Foundation colleague Dan Jones, which saw Dan taken to hospital.
In the restart, now over 12-laps Rory pushed Ray hard throughout the race, maintaining a gap of less than a second throughout the race to come home a fine second place – his fifth podium finish of the 2022 Bennetts British Superbike Championship campaign.
Speaking after the race, Rory said: "Cadwell is probably the track I never expected to be on the podium at so I am mega happy with that. We had a bit of a lack of grip at the end, which was probably as a result of the heat cycle with the tyres (as a result of the red flags and the delays) but I am sure it was the same for every one. I want to give a shout out to Dan Jones, and also Jack Nixon, who were involved in nasty accidents today. I hope they heal up quick and are back soon."
The two feature races are scheduled to place over 18-laps tomorrow.