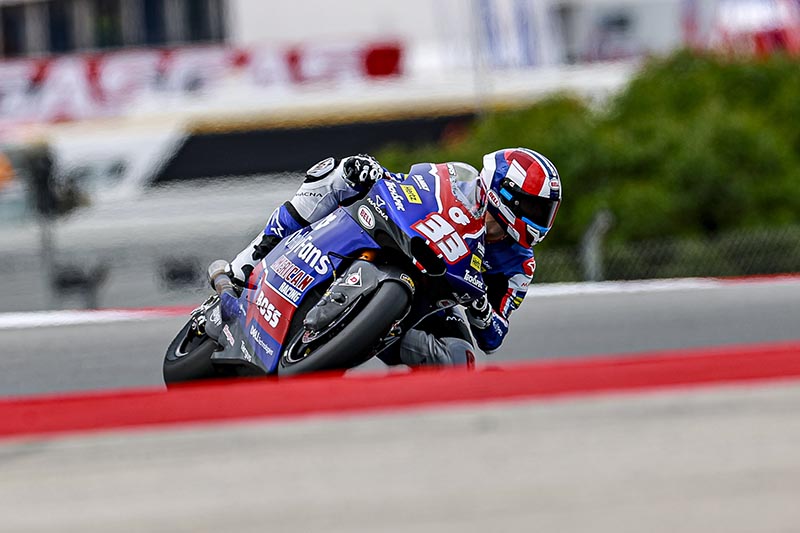 Rory Skinner started his full-time Moto2 career with American Racing with five days of intense testing ahead of this weekend's season opening Portuguese Grand Prix.
After spending two days alongside the rest of the Moto2 grid for a private test at the Jerez circuit in Spain, Rory and the American Racing team moved to Portugal for the three-day official Moto2 and Moto3 test at the challenging Portimão circuit on the Algarve.
The main objective Rory was to spend the three days focusing on getting plenty of lap time in as he continues to adjust to the Moto2 machine after two seasons racing a superbike in the British championships.
Chilly temperatures, plus a sprinkling of rain, made Friday's running more difficult than expected but Rory and team-mate Sean Dylan Kelly stuck with it to put in the laps, ending the day with 55 laps on the board for Sean and a best time of 1'45.402 while Rory delivered a substantial 47 laps with a best lap time of 1'45.736.
The rain continued to hinder play, keeping both of them in the box for the first session of day two.
As the rain subsided, the pair made full use of the remaining two sessions to amass 96 laps between them, with 56 laps and a best time of 1'44.826 for Sean and 40 laps with a best time of 1'44.851 for Rory.
Day three brought bright sunshine all day, the best conditions of the entire test, with Rory utilising the dry track to focus on bike changes ahead of the opening race of the season. The 21-year-old from Perth posted his best lap time of the test, ending Sunday's running with a 1'43.907 and 32 laps to his name.
"It's been an intense six days if you include the Jerez test and the travel day," said Rory. "Five days on a Moto2 bike for me to start the season has been really important especially since I'm coming from a superbike, it's been a massive change. Every day here at Portimão, we've made some progress and made a good step in each session. To be honest, I'm really happy with where we're at; I've had some strong pace on my own, and not one lap stuck out – it's just been pretty consistent so, for me, going into a race weekend, that's really important.
 
"I'm just looking forward to getting into a race weekend and getting the season underway; the more bike time for me, the better, and the more track time I have with these guys, the more I'll learn. I don't think the position shows where we're at but it's my first time on a Moto2 bike here, so it's been pretty cool."