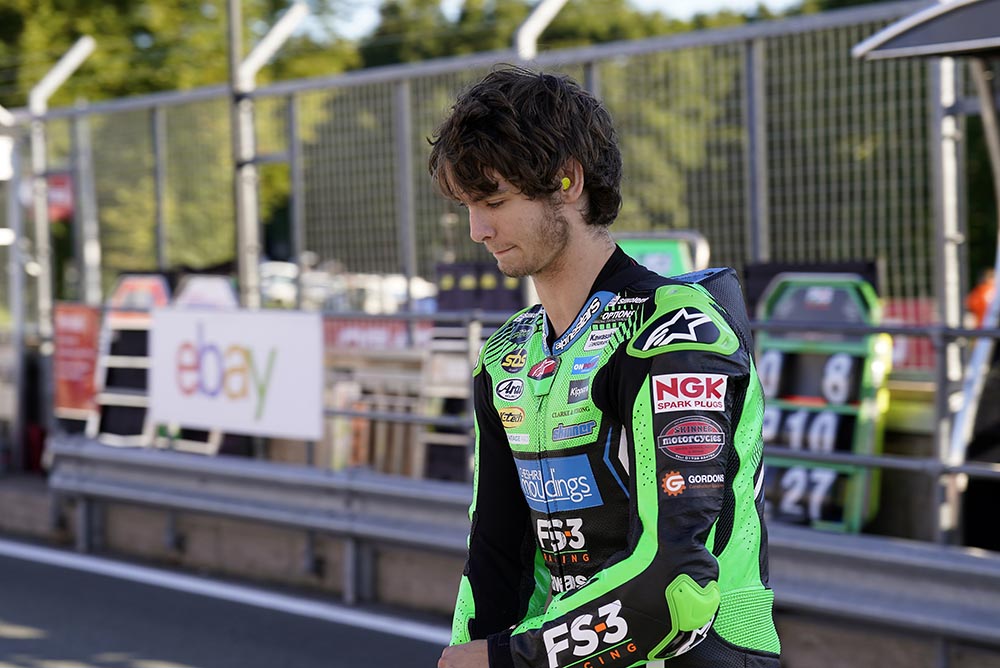 The ninth round of the 2022 Bennetts British Superbike Championship at Oulton Park ended early yesterday for Rory Skinner, after the first time Title Fighter picked up a hand injury in a terrifying race two crash.
Still suffering some aftereffects from his qualifying crash at Snetterton two weeks earlier, the 20-year-old from Perth put his Cheshire Mouldings FS-3 Racing Kawasaki ZX-10RR 10th on the grid for the opening race of the title deciding showdown phase of the championship.
A strong start in the 14-lap eBay Sprint race saw the former British Supersport Champion run as high as seventh, eventually coming home eighth at the hugely demanding circuit.
Sunday saw Rory put in a strong lunchtime warm-up, setting the fourth best time, and an electric start saw him running second when a red flag came out for a nasty accident involving champion Tarran Mackenzie on lap four.
Rory was back in the thick of things at the restart but was himself involved in a sickening accident as rain started to fall on the fourth lap. The young Scot tangled with Christian Iddon on the entry to Britten's chicane, with his body getting lodged in the back end of his fellow competitor's stricken Suzuki as it continued down the track. After laying trackside for a few minutes, Skinner was able to get to his feet after the incident, which brought out another red flag. With injuries to his left hand and arm, as well as abdominal pain, he was taken to Crewe hospital, where X-rays confirmed several broken bones in the rider's right hand.
"It wasn't the weekend I was hoping for," said Rory. "I'm feeling quite second hand right now but to come away with only a few broken bones in my hand is something of a miracle. I am very lucky to have been wearing the best kit available in the form of my Arai helmet and my Alpinestars leathers, gloves and boots. I also have to say a huge thanks to all the BSB marshals and medical team, as well as my FS-3 Racing team, who have been amazing as always. The amount of support from the BSB fans has also been fantastic and I want to thank everyone for their messages of support. Best wishes to Tarran and Christian, who've also picked up injuries this weekend. I've now got to recover and get back to 100%. Hope to see you out on track soon!"