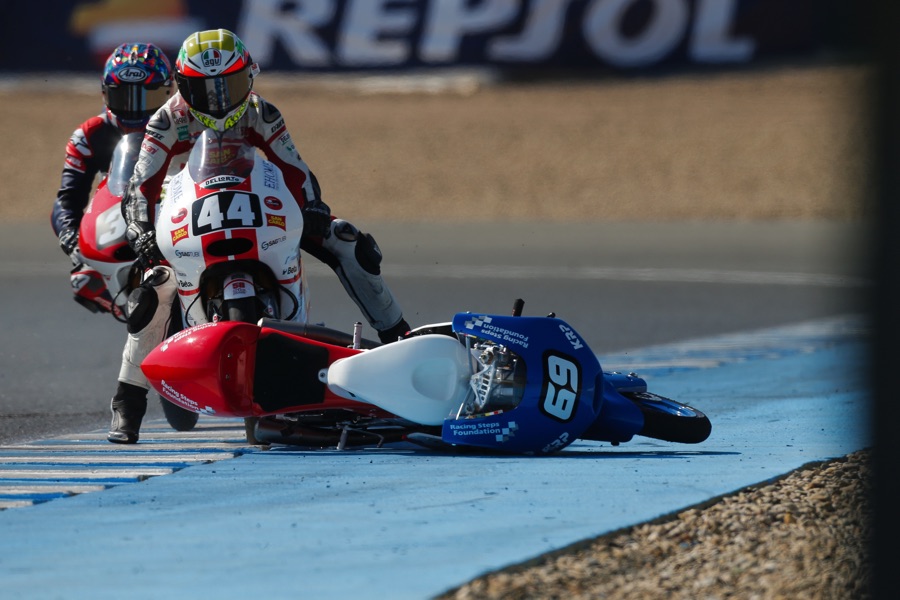 A heavy highside with four laps remaining prevented Rory Skinner from challenging for a podium finish when positioned within the top six riders in the opening race of the Moto3 Junior World Championship penultimate round at Jerez.
The Racing Steps Foundation-backed rider, who had recently impressed in the Red Bull Rookies Cup, lined up in 10th position for the first of the day's two races in southern Spain. Skinner was promoted two places overnight after numerous riders were handed grid penalties for exceeding track limits during qualifying and provisional pole sitter Karel Hanika was penalised for dangerous riding at the previous round.
Skinner made a great start to vault into fourth place on the opening lap, with the top four pulling an early one-second advantage over the rest of the field
With the frontrunning riders exchanging positions and tussling between themselves, the top four became a top 10, all seeking a tow of the rider ahead.
The tussle for position led to Asia Talent Team's Kaito Toba and Karel Hanika (Freudenberg Racing/KTM) to collide with 10 laps remaining.
Skinner began to use tactics adequately, leaving the top five riders to battle it out and wait for the final lap to attack for the podium spots.
However with four laps remaining, Aspar Junior Team's Stefano Manzi braked too late into a right-hand corner, up the inside of Skinner.
Skinner was able to avoid Manzi as he crossed in front of the KRP-powered rider, and squared off the turn. But way off the racing line, he opened the throttle too quickly and highsided off his bike.
The impact was severe enough to badly cut the little finger on Skinner's right hand. After consultation, he was declared medically unfit to take part in the second and final race of the weekend.