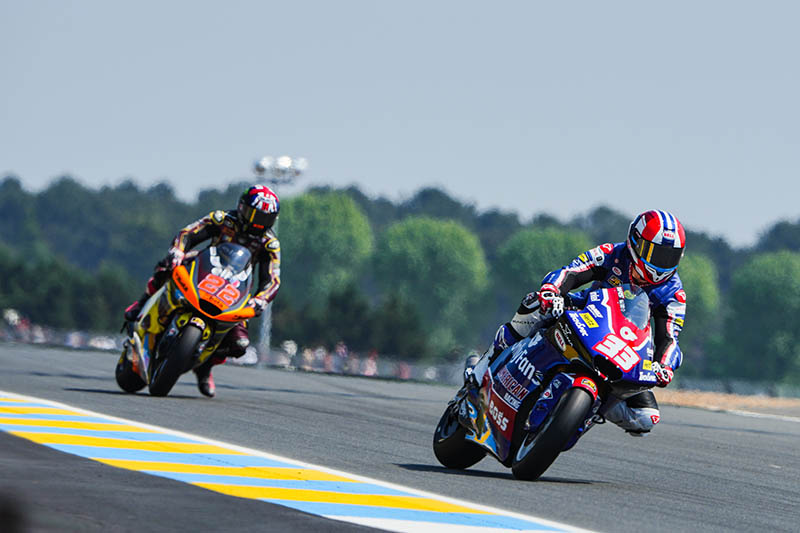 Moto2 rookie Rory Skinner had a tough weekend at the French Grand Prix in Le Mans today, crashing out of a potential top 20 finish on the fifth lap.
Rory's first visit to the Le Mans circuit in six years got off to a tricky start, taking an early tumble at the notorious turn three. Heading back out for the last 10 minutes, Rory suffered a second crash of the session at turn 13, ending his FP1 in 28th. Rory continued to reacquaint himself with the French circuit in practice two, improving by 1.4 seconds, despite suffering from suspected flu, to end Friday in 28th place.
Still nursing an illness, Rory joined the damp practice three session to collect some valuable lap time. As the track rapidly dried, the Scot continued to improve, ending the final practice in 15th place ahead of qualifying.
In the much-improved conditions in Q1, Rory left it until the final moments to put in his best lap time of the weekend to take 26th position.
On race day, Rory maintained his 26th position for the initial three-lap dash before a red flag brought a halt to the initial running of the race.
Taking to the track for the second time, he made great progress on lap one as he made his way into 20th place and had his sights set on another top-20 finish.
Unfortunately, a highside at turn six on lap five ended Rory's impressive run prematurely.
"The weekend has been very up and down," Rory said after the event. "Obviously starting off the weekend with two crashes wasn't ideal and I've felt quite under the weather for a large majority of the weekend but that is what it is, so I just had to get on with that.
"It was good after qualifying, we made some good steps in it on my own and I felt quite good going into the race in both starts, the original and the restart – I got a good launch off the line in both and got into a good group and was settling in for the race but the crash in the restart wasn't great as it was a fairly sizeable highside straight to my face – I'll be feeling that one for a few days – also my wrist is a little sore as I've aggravated an old injury.
"I'm happy with the progress we're making, it is coming – I know I've said that every weekend, but it is and we're making steps in the right direction, it's just taking a little longer than I originally anticipated."