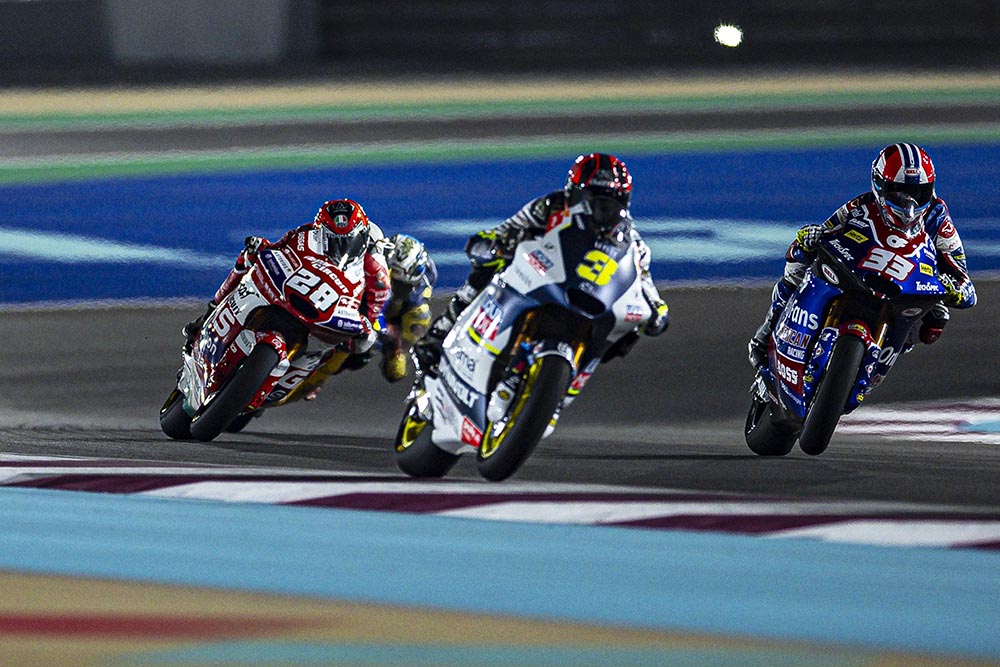 On his first visit to the circuit and faced with his first-ever night race, Rory Skinner got off to a positive start to the Qatar Grand Prix on Friday, as he finished 19th and just half a second from a Q2 spot. With lap times dropping in FP2, Rory shaved almost four seconds off his previous best time to end Friday in 23rd and two seconds off the fastest rider.
Continuing to find pace in final practice, Rory knocked another second off his best time to finish in 21st. Unfortunately, Qualifying proved more difficult as the OnlyFans American Racing rider struggled to put together a clean lap to finish in 15th and line up on the grid in 29th.
It was a tricky start to the 18-lap race as Rory maintained his place, but he quickly set to work, making up two places by the end of lap four before gaining a further two spots into 24th by half race distance.
Battling it out with Izan Guevara, Rory kept in touch with the Spaniard for the remainder of the race before settling for 24th.
Speaking after the race, Rory said: "I am happy enough with how the race went. The mistakes I made in qualifying yesterday; overriding and trying to find a lap time, I remedied in the race when I had been caught up in incidents and managed to claw my way back up to the pack. I'm really happy because I spent the majority of the race battling with the 2022 Moto3 World Champion. I think that might be the closest I've finished to the race winner. The result isn't anything to shout about but doing my fastest lap on the last lap of the race is always a bonus too."