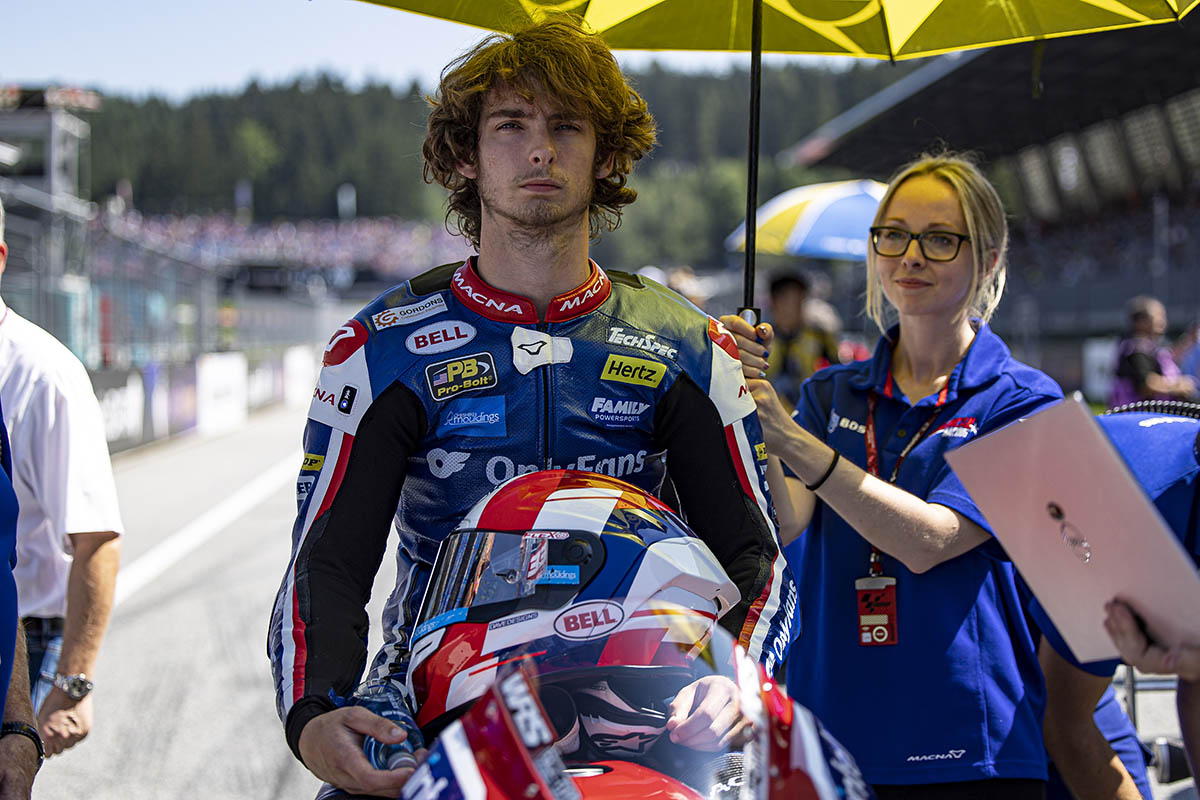 Rory Skinner scored a career best Moto2 finish in today's Austrian Grand Prix, held at the Red Bull Ring near Spielberg, scoring 18th place in the 23 lap race.
The 21-year-old former British Supersport Champion made good use of Friday practice to reacquaint himself with the track where he made his second-ever Moto2 appearance last year, improving by almost a second between FP1 and FP2 to finish 21st.
Saturday got off to a positive start as the young Scot boosted himself into 20th spot in the combined timings at the end of practice. After getting off to a good start in Qualifying 1, running in the top four for a provisional Q2 promotion, he was unable to put in a more competitive lap towards the end of the session, to finish 10th and line up 24th on the grid.
Come race day, Rory charged down to the Red Bull Ring's tight turn one but attempting to avoid any more injuries, he took evasive action and dropped down into 28th.
Putting his head down and focusing on moving forward, Rory steadily made his way into 19th by lap 13 before sweeping past Mattia Rato for 18th place where he ended the race, taking his best result of his Moto2 career so far and his first GP finish since Jerez after a luckless run of races.
Speaking after the race, Rory said: "I actually had a good weekend. I felt like I made a big step with my riding on Friday and Saturday and it was quite enjoyable to be somewhat competitive for once this year. We closed the gap to the front group, and even though the position doesn't really reflect that, we were a lot closer.
"Qualifying was a good session; we were there and competitive for the first half of Q1 but we struggled to put in a competitive lap towards the end when the tyre dropped off, as we were on a one-tyre strategy.
"In the race, I felt like I had decent pace to be up there and competitive with a lot of them but I kind of got a bit spooked off the start as I was going to get 'Alcoba'ed' again at turn one which wasn't ideal and, after Mugello and Silverstone, the last thing I wanted to do was pick up another injury, get wiped out and have my race cut short.
"It's nice to get a race distance under my belt; it's a PB result but it's a bit bittersweet. It's nice to have brought it home and get laps under my belt so we can move on from that in the future and hopefully continue in the way we did at the beginning of the weekend."