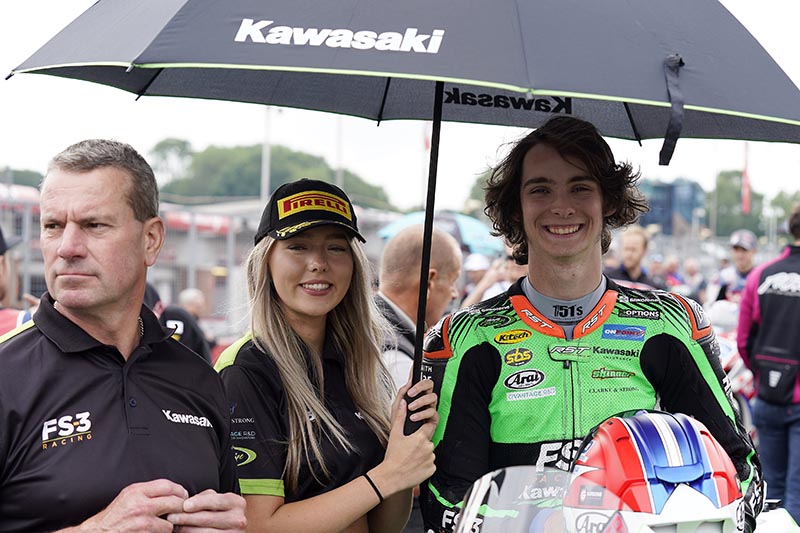 British supersport champion Rory Skinner heads to the fastest circuit on the Bennetts British Superbike calendar this weekend after maintaining his 100% points scoring record in his rookie season in the premier class.
Last weekend the 19-year-old from Perth qualified his FS-3 Racing Kawasaki ZX-10RR on the front row of the grid in his first outing at Brands Hatch on a superbike, and scored three more top 10 finishes in just his third race weekend in the class. This weekend the series moves to Hampshire's Thruxton Circuit, where the lap record stands at over 113mph for the 200+bhp superbikes.
"Brands Hatch was another amazing weekend for us," said Rory. "I wasn't sure what to expect, especially after having surgery to alleviate the arm pump after the Knockhill round, so to qualify third and take three more top tens exceeded my expectations again.
"Brands Hatch is definitely very different on a superbike compared to a 600, but the team were amazing again and we were able to work through our programme and make progress in every session. I was surprised to qualify on the front row. I made a really good start in the Saturday sprint race and was up to second when the red flag came out. For whatever reason I couldn't quite get the same feeling in the restart, but eighth was still a really good result for my first round around there on a superbike.
"I was really happy with sixth in Sunday's dry race. I had a really strong pace in the middle of the race and was faster than the leaders for a few laps, which was pleasing. The third race was tougher as the conditions were so unpredictable. We had three different tyres in the bike at some stage as we sat on the grid, and in the end we went for the safe option of a wet on the front and an intermediate on the rear. I'd never used the inter before, so I had no idea of how much grip we'd have. We'd already achieved a lot over the weekend and it was important for me to go out and just learn and gather data, but the race was stopped due to a technical problem for Gino Rea and we had a seven lap restart on slicks. I didn't know how much grip we would have on the slicks on the damp track and was a bit tentative in the opening laps, but once I got a feel for it I was able to make up four places in one lap to finish ninth.
"Thruxton's a relatively new circuit for me. I've been there once before, in 2019, on our privateer Kawasaki supersport bike, so I at least know what way it goes. It's a fast and bumpy track that's hard on the tyres. I've been doing as much homework as I can, watching recordings of the races from previous years and trying to analyse what the riders were doing. It's great working with such an experienced team. I'll walk the track with my crew chief Matt on Thursday and make our plan for the weekend. Hopefully we can continue to make steps forward in each session."
With nine of the 33 races completed, Rory goes to Thruxton sixth in the championship. Free practice takes place on Friday, with Saturday's qualifying and 15-lap sprint race, as well as Sunday's two 20-lap races, all broadcast live on Quest TV and the Eurosport Player.