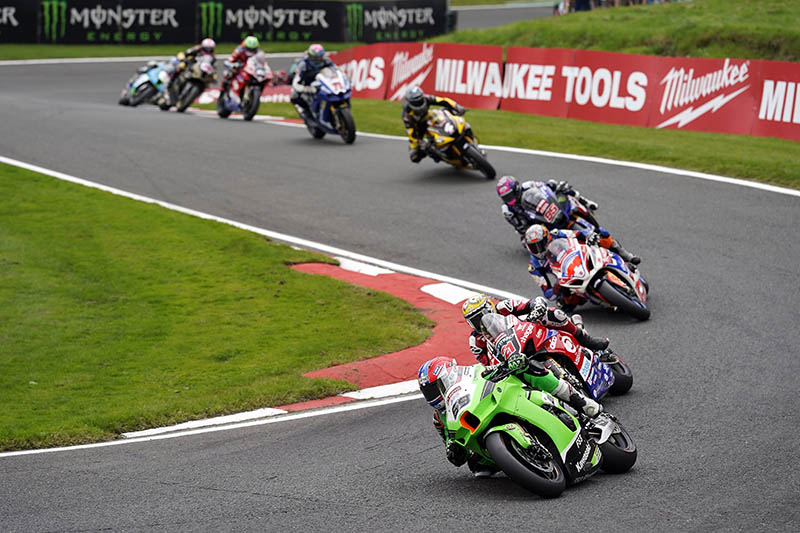 Lincolnshire's iconic Cadwell Park played host to round six of the 2021 Bennetts British Superbike Championship, and 19-year-old rookie Rory Skinner grabbed another top 10 finish after an enjoyable weekend at the narrow and undulating circuit.
Cadwell Park is unique among modern race tracks, not least because of the infamous Mountain section where the superbikes jump through the air like motocross bikes. Having being a casualty of 2020's Covid reduced season, when Rory won the supporting British Supersport Championship, it's one of the circuits where the Perth teenager has very little experience of but, despite that, he was able to place his FS-3 Racing Kawasaki ZX-10RR seventh on the grid in qualifying, before taking an impressive ninth place in Saturday afternoon's Sprint race.
A wet Sunday morning warm-up meant that Rory was unable to try out some overnight set-up changes, but he was still on target for another top 10 finish in the afternoon's opening race when he slid off at Park corner with just a few laps remaining. It was the superbike rookie's first race crash of the season and he was back into the fray for the final race of the year, where he overcome a poor start to take 12th place, just over half a second away from another top 10 result.
"I wasn't too sure what to expect but in the end I picked up the track quicker than expected," said Rory. "We were strong on Saturday but it's a shame that the changes we made for Sunday didn't quite have the affect we thought they would. I just tipped off in race two. It was a really gentle crash that barely damaged the bike. There was a bit of a concertina effect in front of me, so I braked harder to avoid running into the riders and tucked the front. The third race I didn't get off the line particularly well but had a good race and, overall, I can't complain. My fastest lap of the weekend was a quarter of a second off the lap record and I've really enjoyed riding Cadwell, so thanks again to the team for all their hard work again."
The results see Rory lie 11th in the championship, on 111 points, with the series moving to Snetterton in Norfolk in two weeks' time.