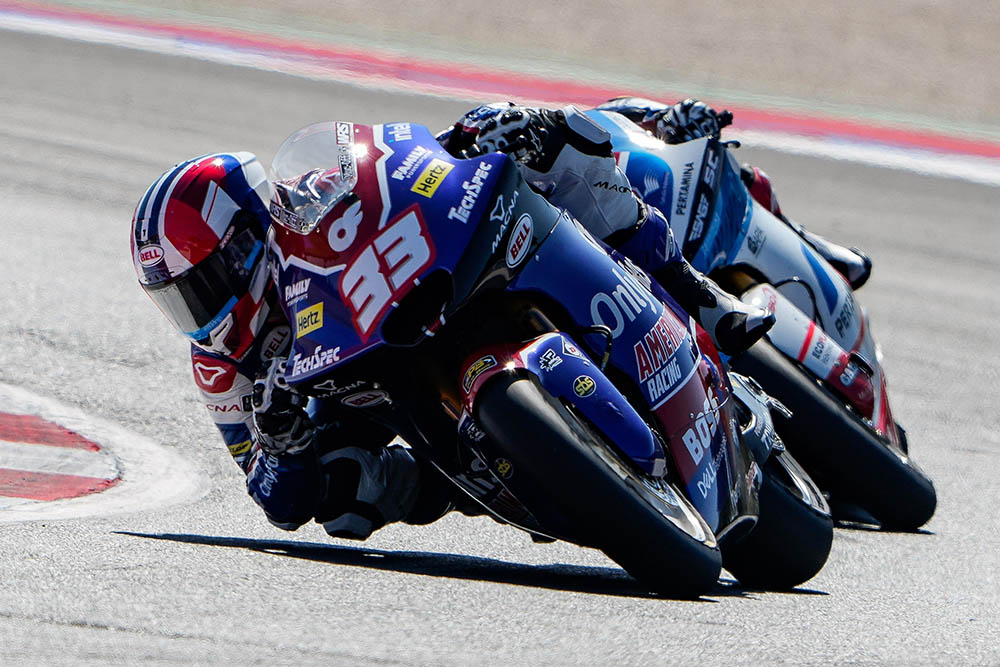 It was a mixed weekend for Rory Skinner in Misano, as the 21-year-old Moto2 rookie was forced to retire with a technical issue while enjoying one of his strongest performances of the season to date.
Returning to a circuit he hadn't ridden in six years, the American Racing rider utilised practice to familiarise himself with the San Marino circuit. However, in practice two, an unavoidable crash for Baltus ahead of him left him with nowhere to go other than sliding along the asphalt, meaning he ended the session early, ending finished up 25th.
On Saturday morning, the former British Supersport champion improved on his previous best lap time, taking three-tenths of a second from his best lap, before a huge crash at Turn 12 brought his final practice to an abrupt end.
With only one second covering 12 riders, Rory finished Qualifying 1 in 12th to line up 26th on the grid. A grid penalty for Dennis Foggia promoted the Scot into 25th place.
As the race got underway, Rory gained two places on the first lap before gaining a subsequent spot after a crash for Senna Agius to move him into 22nd where he began battling against Jeremy Alcoba.
Unfortunately, while duelling with the Spaniard, Rory suffered a gearbox issue, forcing him to retire from the race on lap nine.
Speaking after the race Rory said: "Misano has been an up-and-down weekend. There are plenty of positives to take from Friday and Saturday morning up until my crash in FP3. It was a quick one, I was making good progress on used tyres, but I lost the front at 160mph, unfortunately resulting in a lot of work for the crew to do before qualifying. Massive props to them for getting me out for Q1. The bike felt great, but I lacked a little confidence after the crash as it wasn't ideal having to be back on the limit for quali on a brand-new bike.
"Going into the race, it's unfortunate that we had a gearbox problem as I made some good moves and wasn't quite as nervous going into the first few laps so to be further up the pack and in a battle was good as it's been quite a while since I've been in one – I think Le Mans was the last time.
"Overall, it's not been a bad weekend so we can take some positives from it but, at the same time, there's definitely more to come."
The season continues in two weeks' time, with the first ever Indian motorcycle Grand Prix.