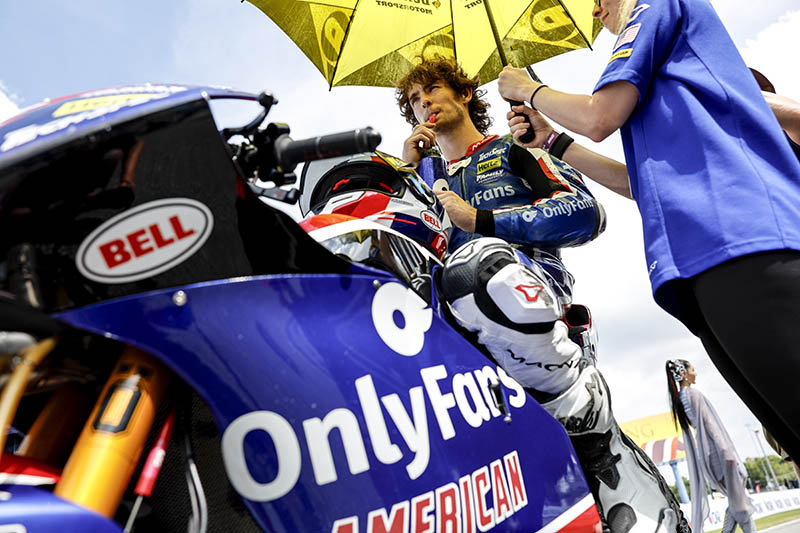 Moto2 World Championship rookie Rory Skinner scored another top 20 finish in today's Grand Prix of Thailand, taking his OnlyFans American Racing Team Kalex from 30th on the grid to 20th by the end of the gruelling 35 minute race.
The 22-year-old Scot spent his first Friday at the Chang International Circuit in Buriram, finding his way to finish 1.1 seconds off a direct Q2 spot. The former British Talent Cup champion shaved four-tenths off his best time from Friday in final practice as he amassed a valuable 12 laps ahead of Q1, where he finished in P30, 1.5seconds off Q2 as Moto2 continues to keep it close.
In the opening three laps of the race, Rory made up seven places to boost him into 23rd place before collecting another three spots into 20th spot.
Struggling with grip, the Scot lost one place late on to Alex Escrig but a last lap retirement for another rider saw him take the chequered flag in 20th in some of the hottest conditions of the season.
Speaking after the race, Rory said: "It was definitely a hot and sweaty one, one of the hottest I've competed in. After the triple-header, it's certainly taken its toll over the last three weeks. This is the first triple-header I've completed this season due to injury at Mugello.
"It's been good, I've learned a lot and, this weekend, it's been a character-building weekend as it hasn't quite gone the way I wanted it to at times but we've made steps in the right direction during the race and to recover into a top 20 place from 30th on the grid is certainly a good step."