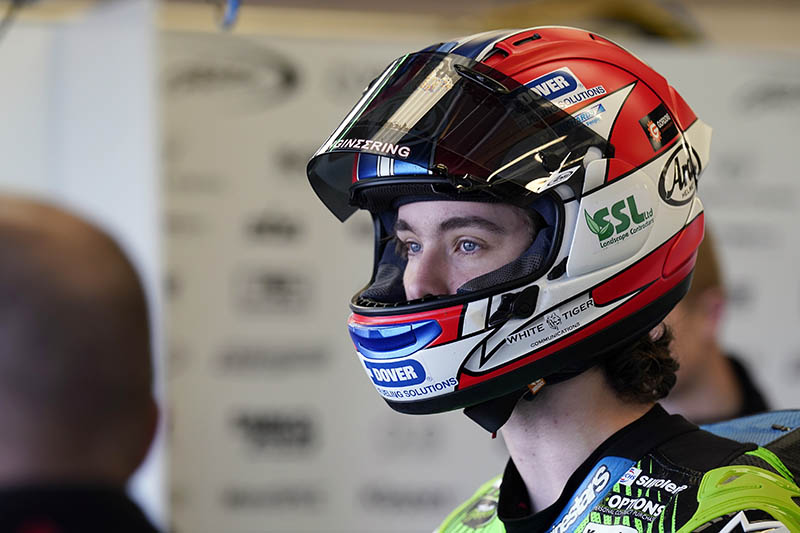 Rory Skinner is set to make his eagerly anticipated world championship debut this weekend, when he lines up for the American Racing Team as a wildcard entry in the British Moto2 Grand Prix at Silverstone.
The 20-year-old from Perth, Scotland, will swap the Cheshire Mouldings FS-3 Racing Kawasaki ZX-10RR he usually races in the Bennetts British Superbike Championship for a Kalex Moto2 machine as he makes the first of two wildcard appearances scheduled in August. It will be the former British Talent Cup and British Supersport Champion's first outing on the world stage, fulfilling an ambition he has held since first competing in minimoto racing at the age of seven.
Skinner, who currently lies fourth in the British series, is under no illusions about the challenge of jumping from a 200+bhp production based machine to a lighter, stiffer and less powerful Moto2 prototype bike, nor the level of competition in what is regarded as one of the toughest racing classes in the world, but admits he's 'buzzing' and grateful for an opportunity which eludes most aspiring British riders.
He said: "I'm really looking forward to the opportunity to make my Grand Prix debut at the age of 20. I know that might seem to some to be quite old compared to some of the riders from other countries, but in Britain we don't tend to get those opportunities at an earlier age. I'm really grateful to Eitan and John at the American Racing Team for giving me the opportunity, and also to Darren and Nigel at FS-3 Racing for allowing me to realise a dream that I have had for as long as I can remember.
"To have the opportunity to make my debut at my home race is extra special, although I don't actually have that much experience of the circuit. I've only raced on the full Grand Prix circuit twice before, in 2015 in the Red Bull MotoGP Rookies Cup and then again in 2018, when I won the British Talent Cup race at the British Grand Prix, so I have some happy memories and do enjoy it, as it is a fast and challenging track. We use the shorter National layout in the British championships, so I suppose I do at least know six of the corners really, really well," he joked.
"I am really buzzing to get this chance but there's no expectation or pressure from John (Hopkins, American Racing Team Race Director) or anyone in the team. It'll be nice for me to understand what it is like to ride a Moto2 bike and that will be a real help for me in deciding what route to go with my career. Grand Prix has always been my ambition and this experience will be invaluable at an important time in my life. I have ridden against quite a few of the riders I will be lining up against from the Junior World Championship and Red Bull Rookies, so I am under no illusions about the level of competition nor the challenges of jumping on a Moto2 prototype, which will have completely different characteristics to my Kawasaki superbike. I have been riding mainly production based machines for the past five seasons, so my hope is to enjoy the experience and to keep improving every time I get on the bike."
August is going to be very busy for the young Scot. Following the British Grand Prix, he goes straight to Thruxton for round six of the Bennetts British Superbike Championship, before heading out to Austria for a second round on the Moto2 bike. The month ends on the Kawasaki superbike at Cadwell Park which, like Thruxton, is a uniquely British circuit with very different characteristics to the Grand Prix style tracks on which he will ride in Moto2.
"It is especially good to have a second outing in Austria, as Silverstone is very much going to be a learning weekend," Rory added. "My first time out on the American Racing Team Kalex Moto2 bike will be in Friday morning's free practice session but at least in Austria I will have a race under my belt and will know what to expect. I've been to Red Bull Ring with the Rookies and like the track. I think I was in the first ever race around there and was actually the first lap record holder, so that's a bit of a claim to fame! It's been modified for this year too, which should mean I won't be at such a disadvantage against the regulars there."
The British Grand Prix takes place at Silverstone on the weekend of 5-7 August. Race fans wishing to see Rory in action will be able follow every practice, qualifying and race session live on BT Sport, while the race will be available free to air on ITV. Tickets are available at www.silverstone.co.uk