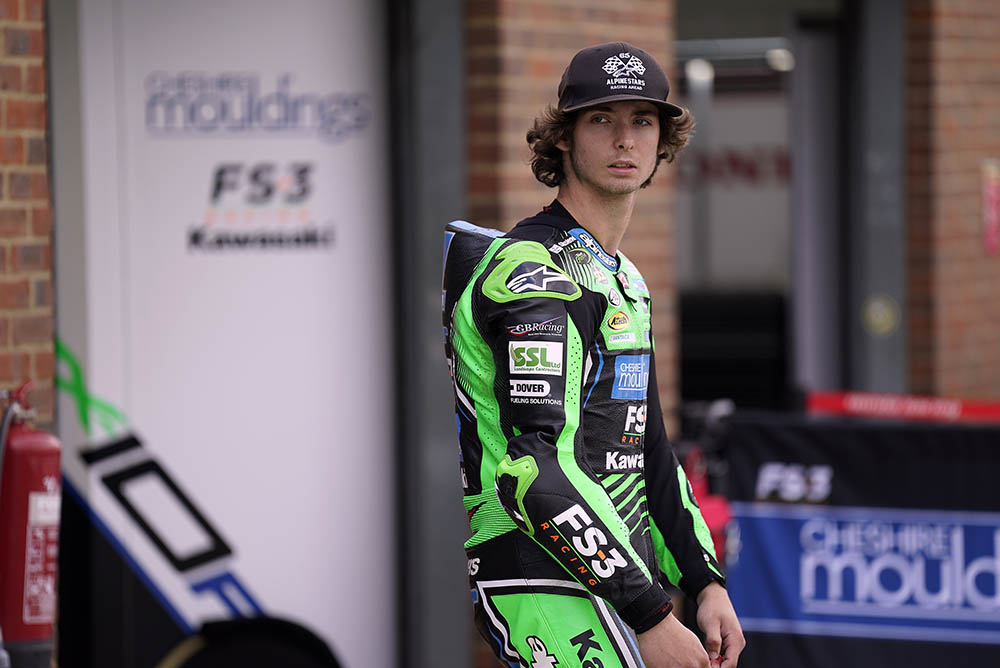 It was a subdued end to the main Bennetts British Superbike season for Cheshire Mouldings FS-3 Racing rider Rory Skinner, with a knock sustained in a qualifying accident seeing him participate in just one of the weekend's three races.
The 20-year-old from Perth hurt his neck after suffering a high speed highside crash in Saturday's soaking wet Superpicks Qualifying session and, with qualification to the title deciding top eight Showdown already confirmed at Cadwell Park two weeks' earlier, team and rider made the decision to sit out Saturday afternoon's eBay Sprint race.
Following physio and a night's rest, Skinner participated in Sunday morning warm up and took his place on the grid for the afternoon's opening race.
Starting 25th and last as a result of having not set a lap time in the sprint race, Rory charged through to an impressive 11th at the flag, but with the discomfort remaining and his championship status already decided, team and rider again elected not to line up for race three.
"Bit of a tough one this weekend," said Rory. "I had a big high side which left we with a big to the head. We decided it was best to sit out Saturday's race and rest for Sunday, and while 25th to 11th in race two was a good result I didn't feel comfortable on the bike and felt that it was best to sit out race three.
"Big thanks to all at FS-3 Racing for always having my back. Onwards now to Oulton Park in two weeks' time!"
The Bennetts British Superbike Championship now enters its 'Showdown' phase, with the title decided over three rounds and nine races. Rory, who travelled to Snetterton third in the championship, is one of eight 'Title Fighters' who will commence battle at Cheshire's Oulton Park circuit on the weekend of 24-25 September.